I'm looking forward to the Modern Mini Challenge over at Ellison Lane Quilts.
http://ellisonlane.blogspot.com/2012/01/challenge-and-contest-for-you.html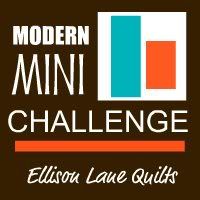 It's a 5 week series that will include some blog hopping, inspiration, and a challenge/ contest of mini quilts and mug rugs.
I really need to get into some more mini quilts & smaller projects. I feel like I don't get as much accomplished as I want to because I'm always working on big quilts.
So I'm hoping to get sewing on some mini quilts, bags, and smaller projects in the future.